Troy™ Concept Expedition Vehicle
Home is where your car is.
©2014 Eduardo Galvani
The conditions of human life tends to evolve with the scientific and technological advances. Through the recent upgrades, perceived especially in transportation and telecommunications industries, and the significant diplomatic advances that have contributed to minimize the negative effects of the existing cultural barriers between different nations, is notable that the opening of this century is determining the beginning of a new era of raise globalization and significant expansion of human mobility over the planet.

Troy™ is a concept vehicle idealized for

amateur and professional expeditions, explorations and adventures

. It was conceived as a convenient solution in transportation for researchers of many knowledge areas, as biologists, geologists, archeologists, and for adventurous, nature sportists, photographers, film-makers and everyone who needs a comfortable and practical space in anywhere.
Troy™ is equipped with the

basic features for comfortable long trips

: kitchen with sink, refrigerator, electric stove and oven, dormitory for 4-5 persons, dinner table, work table and a toilet with shower. It also has a side tent, 2 water reserve gallons (plus 70 liters), a shovel, an axe, back and side external ambient lights and 6 fog lights.
The energy for it's electrical engine and all internal functions is provided by a combustion micro generator, ensuring a 

very low CO2 emission 

and a 

very optimized driving range

. There is also an "eco-system" for the ecologic manage and discard of the waste from kitchen and toilet.
Troy™ has 

10 well distributed internal lights

with

independent dimmer control 

for a nice ambience illumination in any situation and a better use of its energy. 

16 air conditioned vents

and 4 funnels for toilet and kitchen helps keep the air fresh and pure all the time.
Technical Characteristics and Specifications


Troy™ has a 

180Kw (230hp) electrical engine

 lithium-ion battery powered which works paralell to a combustion micro generator for constant charging its batteries. The structure is built with very strong and light materials, as

carbon-fiber

,

titanium

and

aluminium

, which optimizes the passengers safety, thermo-acoustic comfort and the energy consumption (estimated around 1.50 L/100 km ).
Part of its top careen is covered with

sun cells

, allowing Troy™ to auto generate some of its energy, and aregenerative brake mechanism makes Troy™ able to recovery and save kinetic energy. Theres also an external connector/adapter and conversor for

external electric energy use

.
Troy™ Integrated Operational System (TroyIOS™)

is controlled by touch or voice commands (configurable) and is accessible by a 9 inch removable touchscreen located at its central panel. It allows fast and easy access to all the vehicle functions and controls, as Sounds Volume, Air Conditioning Mode/Intensity, Internal Lights dimmering (selectable by ambient), GPS trips/routes, Navigation Instruments (Compass, Altimeter, Inclinometer), Internet Services, Phone Calls, and more.

TroyIOS™ is also integrated with 4 configurable shortcut buttons for faster access to the most used functions, and 3 analog selectors for better gradual selection of sounds (music/phone) volume/balance/equalizer, lights dimmering and A/C vents intensity/temperature.

Like the
Nimbus™ concept e-Car
, Troy™ has a 

Multi Function Convex Driver Dashboard

, made with flexible screen, which allows a better view from the most important informations for the driver, as Velocimeter, Fuel/Batteries/Water/Waste/Oil/Fluids Level Indicators, GPS Data/Commands, Engine Temperature, Gereral Alerts and more. It also has Automatic Voice-Display Alerts for important informations and GPS Commands. Also, driver can easily change the functions on display anytime with a simple touch on the 4 configurable buttons located at the steering wheel, by tapping direct on its touchscreen or even by voice commands.
Safety and Capacity


Troy™ comfortably carries

7 passengers

, protected with side protection bars and 8 airbags. Also, its layout is designed to create a Virtual Safe Position, such that driver and passengers seats are elevated.
Its 

Panoramic Windows 

provides maximum visibility of the outside world, increasing both comfort and safety while driving at night or under bad weather conditions.
Troy™ is also equipped with 

internal stair

 for access to the top, and 

optional curtains

 for toilet, office, kitchen, dinner table and dormitory windows.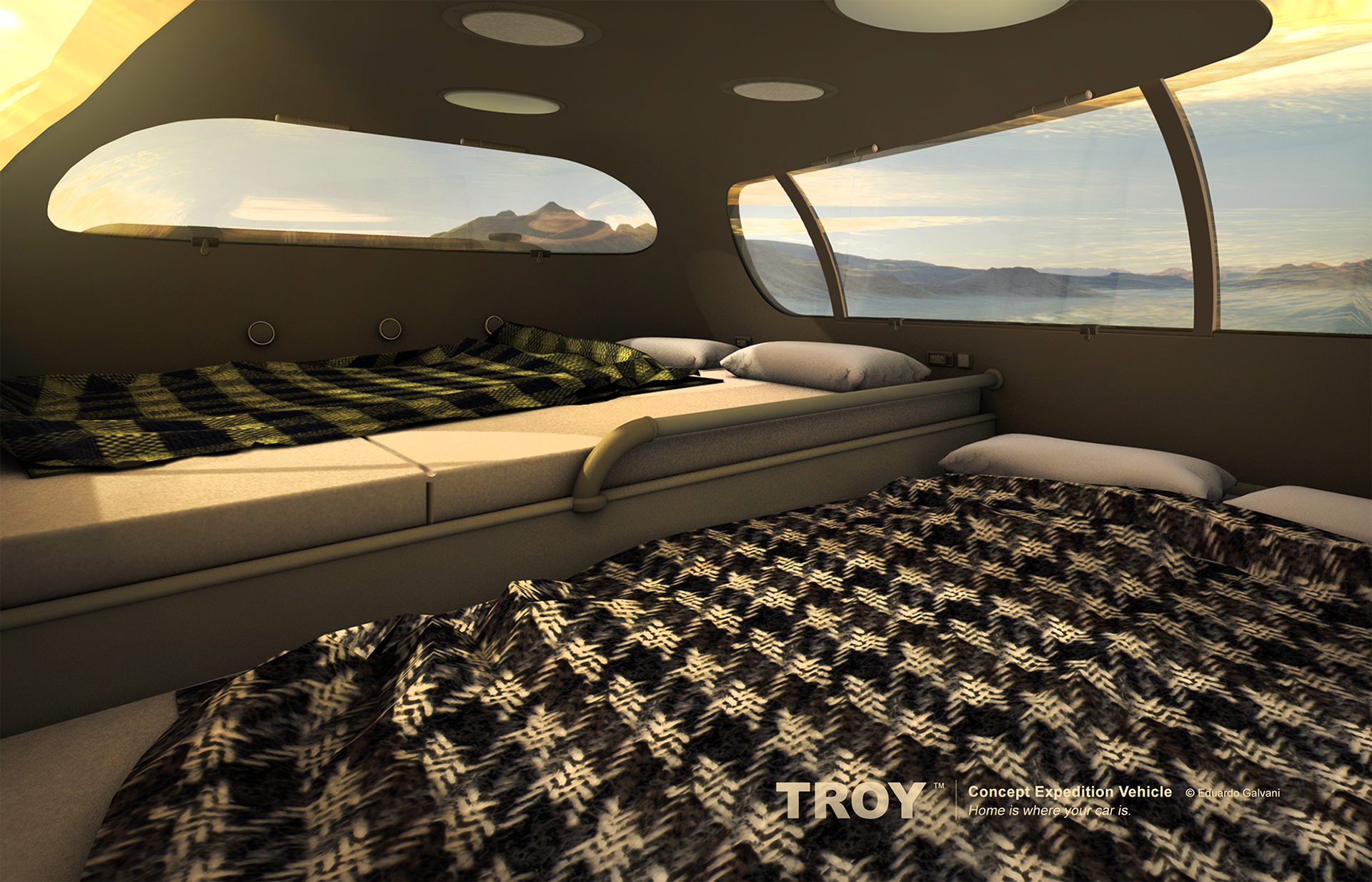 Drive Assistance


Troy™ has 

four selectable driving modes

 to improve the range and energy consumption, depending on the circumstances: 

Energy Saver

, 

Standard Trip

, 

Faster Cruise

 and 

4WD

.
The adjustable 

Hydraulic Steering Wheel

, and adjustable seats, allows a very comfortable position while driving.
For a better parking experience, Troy™ is also equipped with sensors for 

Obstacle Detection

(Distance Warnings) and a 

Rear Camera

 which works as a 

Digital Mirror 

on its panel's Central Display.
Troy™ has a

single touch power button

to start and turn off the engine, 

Auto-Pilot

technology for cruise control, and a 

Gearless Automatic Velocity System

 with 

Hill Descent Control 

and no delay in developing torque, allowing optimized energy use as well as 

extremely smooth acceleration and braking

.

It has 

Self-Cleaning Surfaces

, for less water use, and 

Anti-theft System

, with 

Remote Power Blocker 

and

Location Detection

.

A/C Cold/Hot
Water Cold/Hot
Water tank for 140 liters 
Electric doors, Windows and Mirrors
Front/Back Screens Wiping/Defrost
Tyre Pressures and Washer Fluids Level Sensors 
Fog Lights (6)
Cup/Bottle-Holders (10)
Security Lockers in all external acessories, water tank and gallons corks

Dimensions 

2.70 x 3.78 x 5.54 m


Weight 

2.130 kg / 4700 lbs


Layout 

Front engine 


Autonomy 

740 to 800 km (460 to 500 mi)


Max Speed 

140 to 160 km/h (90 to 100 mph) - 0 to 100 km/h (0 to 60 mph) in 17 seconds 


Baggage

loading 1000 lt


Tyres

 Cross


Brakes 

ABS


Suspensions

 Independent
Troy™ Concept Expedition Vehicle
Home is where your car is.
©2014 Eduardo Galvani
Comments are welcome: 

edugalvani@gmail.com