Landscape © Benjamin Leslie
Nimbus™ Concept EV - Future is calling
Concept e-Car / ©2014 Eduardo Galvani
Nimbus™ is a concept electric vehicle made for both short distances in urban areas and longer trips in varied terrain. Its hybrid engine and efficient energy consumption system provides greater driving range and energy saving than the all-electric cars.
When drives a car, human may experience a subconsciousness process that modifies some perceptions of itself, feeling like if the machine was a part of its own body which increases its natural capacities, as recalls the Centaur ancient greek mith. This may be a psychological reason why some people likes cars very much. "As more power and autonomy has your car, more power and autonomy may have you." By the same way, as more ecological your car is, more ecological may be you.
The Battle of the Centaurs and Lapiths
Nimbus™ has a 130Kw (180hp) electrical engine lithium-ion battery powered which works simultaneously with a micro combustion generator which constantly charges the batteries. The Nimbus™ is built with very strong and lightweight materials, including carbon-fiber, titanium and aluminum, which optimizes its energy consumption (1.30 L/100 km).Part of its careen is covered with solar panels, allowing Nimbus™ to automatically generate some of its own energy. Its regenerative brake mechanism makes Nimbus™ able to recover and save kinetic energy.
Nimbus™

is a concept e-car made for short dislocations in urban streets and distant trips in long roads. Its hybrid engine and energy comsumption system provides much more autonomy and energy saving than the all-electric cars.
There are four selectable driving modes to improve the range and energy consumption, depending on the circunstances: Energy Saver, Standard Trip, Faster Cruise and 4WD.
The adjustable Hidraulic Steering Weel, combined with the adjustable seats, allows a very confortable position while driving.
For a better experience parking, Nimbus™ is equipped with sensors for Obstacle Detection (Distance Warning) and a Back Camera which works as a Digital Mirror on its panel's Central Display.
Nimbus™ has a single touch power button to start and turn off the engine, Auto-Pilot technology for cruise control, and a Gearless Automatic Velocity System with Hill Descent Control and no delay in developing torque, granting optimized energy use as well as extremely smooth acceleration and braking.
Nimbus™ comfortably carries 5 passengers, protected with side protection bars and 6 airbags. Also, its layout is designed to create a Virtual Safe Position, such that driver and passengers seats are elevated.
Its Panoramic Windows provide maximum visibility of the outside world, increasing both comfort and safety while driving at night or under bad weather conditions.
Nimbus™ has a Multi Function Convex Driver Dashboard made with flexible screen, which allows a clear view of important information for the driver, including Velocimeter, Batteries Level, GPS, Engine Temperature and more. It also has auto sound/display alerts for other important information and GPS Commands. The driver can easily change functions on the display anytime with a simple touch on the 4 configurable buttons on the steering wheel, using the touchscreen, or voice commands.
The Central Display and Controller is a removable touchscreen (7" diagonal) from which the driver or front seat passenger can control the sound system, interior lights, air conditioning, routes, clock and also access the media browser, inclinometer, altimeter, weather, general vehicle info (tire pressure, washer fluid level, maintenance schedule, etc) and Internet services (such as Skype/social media/E-mail). This central display and controller is integrated with an analog selector for better gradual selection of sounds (music/phone) volume/balance/equalizer, A/C intensity and temperature.
Nimbus™ has Bluetooth and Wi-Fi connectivity, 4 USB conectors (2 for front and 2 for back seats) for media browser and recharging, as well as 1 conventional 12V power conector.
It has Self-Cleaning Surfaces, for less water use, and Anti-theft System, with Remote Power Blocker and Location Detection.
Electric doors, Windows and Mirrors
Front/Back
Screens Wiping/Defrost
Tyre Pressures and Washer Fluids Level Sensors
Mini Refrigerator (capacity for 8 cans)
Dimensions 2.10 x 4.20 x 2.60 m
Weight 1.620 kg / 3 570 lb
Autonomy 260 to 320 km (160 to 200 mi)
Max Speed 130 to 160 km/h (80 to 100 mph) - 0 to 100 km/h (0 to 60 mph) in 13 seconds Baggage loading 470 lt (Internal) / 300 lt (Top Suitcase) / 200 lt (Reck) - 600kg / 1322 lb total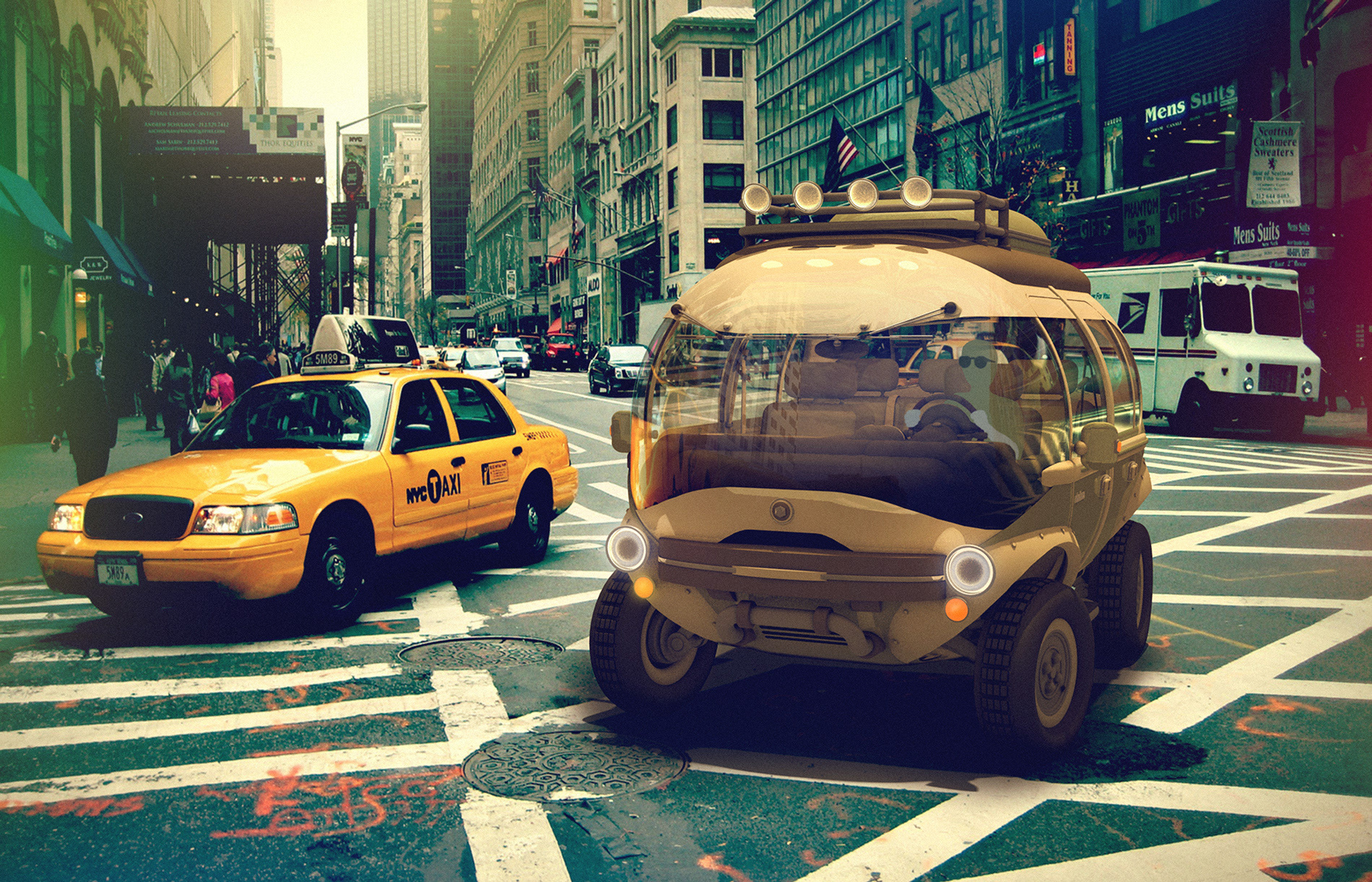 Nimbus 2.0 (2020) Update Design: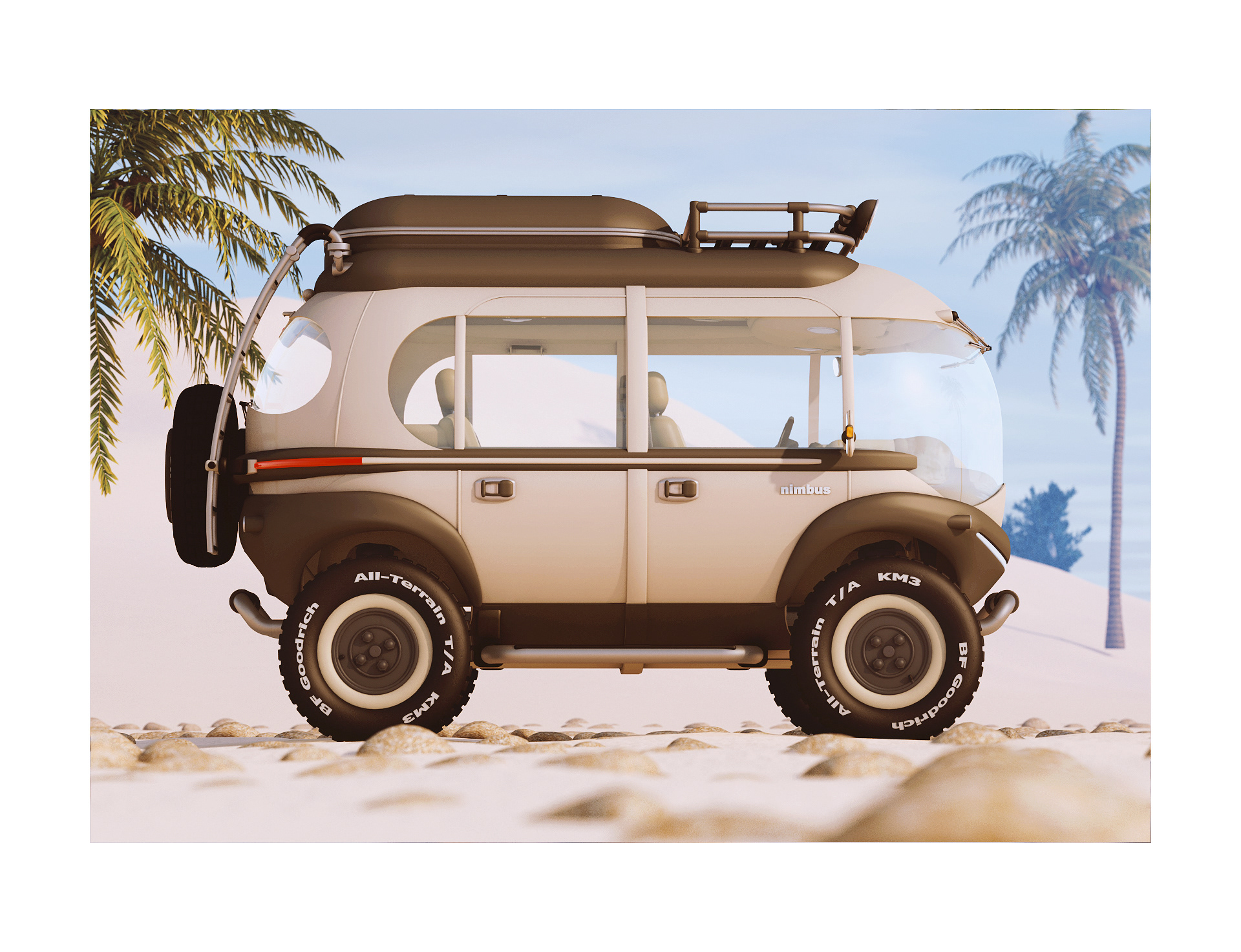 © 2014-2020

Eduardo Galvani
http://www.epiakstudio.com
Comments are welcome:

edugalvani@gmail.com